if you haven't heard of or seen the beautiful images of katelyn james, please take a minute before reading this post to visit her website and check out her amazing work here! jeff and i have admired her photography for many years now, which is the reason for this post.  katelyn has recently posted an amazing opportunity for someone to win a seat in her workshop this coming march. i would more than anything love to learn from this amazing woman.  i almost feel like i know her after reading her blog day after day (i mean, we do have a lot in common: same name, young and happily married, raising an adoable puppy dog, and a shared love not only for photography but more importantly, to bring joy to couple's lives).  i can only hope that her along with all of you readers take a few minutes and read the story of how our lives and business have become something more than we could have ever imagined or dreamed….
jeff and i met at messiah college.  we actually both transferred in after a semester at other colleges and met at transfer student orientation.  jeff will tell you to this day that the second he layed eyes on me he knew he wanted to get to know me.  after several months of friendship, we eventually started dating.  we spent three amazing years togehter at messiah…making friends, traveling to south africa, volunteering at church together.  jeff popped the question in june 2009 and of course, i said yes 🙂 we were married in may 2010 and we can both honestly say it was the happiest day of our lives (oh yea, we also rode a bicycle built for two).  however, there was a lot of unknown and uncertainty for the months ahead…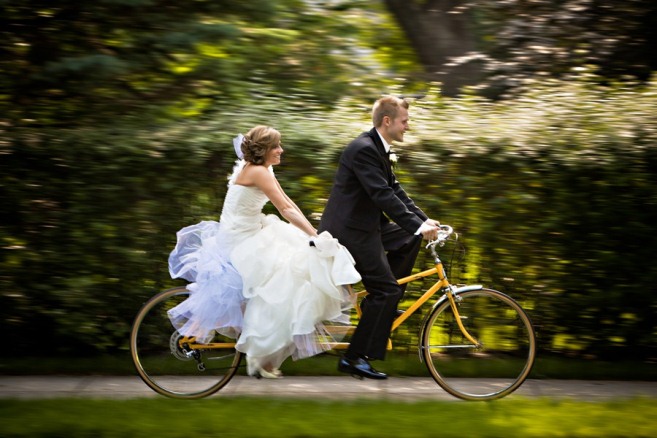 (Photo by Hoffer Photography)
i graduted from messiah two weeks before marrying jeff.  life was defnitely crazy, but i didn't want to spend one more day as his fiance…we were more than ready to be husband and wife.  on the day of my college graduation, a family member handed me the book, "oh the places you'll go" by dr. seuss.  i'm sure many of you have read this book as a child, but have you taken the time to read it as an adult? talk about a deep book! it starts out with the following quote, "you have brains in your head.  you have feet in your shoes.  you can steer yourself any direction you choose." this quote seemed so libearting at first, but then scary.  i had no idea what direction i wanted to steer myself.  jeff was in graduate school for physical therapy at stonybrook university in long island, ny and i knew that in order for us to survive,  i would have to secure a job quickly.  i graduated with a degree in cross-cultural christian ministry and soon learned that there were not many opportunities available for me in that field.  i took a nannying job on long island and jeff and i quickly learned how to live on a budget.  we still quote our favorite line from our first dance at our wedding to one another, "don't you worry there my honey, we might not have any money, but we've got our love to pay the bills" (ingrid michaelson).
as i started my nannying job, i found ways to keep myself busy (and sane) while the little guy i watched was napping each day.  i started to use the olympus e500 that my dad had passed down to me to photograph food.  yes, you heard me right…i took pictures of food.  i had a food blog and would make then photograph everything i baked, cooked or ate each day (check it out here: www.abicyclebuiltfor2.com).  jeff and i realized that taking pictures brought me joy, so we quickly upgraded our camera in hopes of leaning even more about photography.  i enrolled in a class (dslr workshops by okello dunkley) and learned the many important techniques of photography, lighting and most importantly, shooting in manual and having full control over my camera.
jeff and i can both remember the day we (together) took pictures of our nieces and nephews.  afterwards, we said to each other, "let's do this more often…it's fun!"  we absolutely loved photographing the kids-making them laugh and most of all, seeing the pictures afterwards.  we were truly able to see the emotion of the day in the photographs.  you could see the beauty and yet drama queen instincts in the many smirks an faces of my three year old niece. we started taking pictures of several friends and family for free, practicing as much as we could in hopes that this hobby could one day lead to a business.  never did we think how quickly that would have happened…
before we knew it, we had bought two cameras, sevreal lenses and were not only shooting families, but weddings! we bought a website and created a facebook page and by mostly word of mouth, our business started to thrive right before our eyes.  togehter, with lots of time and energy, we created something that we could have never even imagined a year before.
so where are we now?  we are both the owners and photographers of jensen photography.  a business that photographs families, children and most of all, engagements and weddings.  we put the client first, because we want to bring joy to their lives.  it is true that "a picture says a thousand words" and it is our goal to capture that for our clients.  so why do we want a chace to attend katelyn james workshop?  dr. suess also said in his book, "wherever you fly, be the best of the best."  we want to learn from the best so that we can not necessarily be the best, but be our best.  with over 20 weddings booked in 2012, we may be in over our heads but are up for the challenge!  i know that this workshop would not only improve our photography skills, but also organization and how to run a successful business.  jeff is finishing up his last semester of graduate school and we are therefore still living on that  budget i mentioned a few paragraphs above 😉 winning a free seat would be an amazing experience and a huge help to jensen photography! (attending this workshop would also allow cait to meet her long lost friend (or so it seems), kateyln james 🙂
because as dr. seuss said, "be your name buxbaum or bixby or bray or modecai ali van allen o'shea (or jensen photography :), you're off to great places!  today is your day!  your mountain is waiting.  so…get on your way." 
this is our day…